Solar street lights have been available for quite a time now, having originally been designed for use in less developed or isolated areas, or perhaps places where the electricity supply has been disrupted by man-made or natural disasters. The technology guiding the use of solar energy has progressed significantly to enable projects to be feasible throughout the world. The situation now is that street lights powered by solar energy can be simply and rapidly installed, giving the potential of many years of trustworthy use, with a minimum of maintenance required.
In these times of heightened environmental awareness, electric street lighting is rightly regarded as an enormous consumer of electricity, at a vast financial and environmental cost. However, because of the road safety and security benefits which result from a good street lighting system, authorities everywhere are keen to implement cost-effective and environmentally friendly lights. Solar street lights can deliver that much-desired outcome and offer an exceptional lighting program whilst, at the same time, producing considerable economic and environmental savings.
However, it must be stressed that although solar street lighting, in a well-designed network, can bring significant benefits, it is imperative that those lights which are chosen are completely appropriate for the specific environment and implementation. It is not possible to buy 'one size fits all' or 'straight from the shelf' solar street lights systems as you might do for, perhaps, solar garden or yard lights. Careful consideration has to be given, for example, to the kind of solar panels to be employed; the batteries; the lamps or LEDs - Light Emitting Diodes; and the kind of electronic circuitry to be utilized in the solar charger controller and the back up system, needed for days when the sun doesn't shine!
The most recent developments with regard to the technology behind solar street lighting have been in connection with LEDs. Firstly, these consume far less power than the older type of conventional sodium lamp. In addition, they have a much longer working life, better color definition and require smaller solar components than sodium lamps. It can be appreciated, therefore, that, in order for solar street lights technology to be efficient and cost-effective, a thorough and meticulous assessment has to be carried out, paying the utmost regard to information concerning solar radiation, the amount of sunshine prevalent and general climatic conditions in the relevant area.
This needs to be done hand-in-hand with a careful consideration of the exact requirements of the street lighting system. In other words, the number of hours of illumination required on a daily basis and other important data has to be precisely determined in order to provide the client with the system that will meet all those criteria. If these items are all properly assessed, then we are able to provide an efficient, reliable, economically sound, purpose-built solar street lighting network.
To conclude, let's just sum up the benefits of solar street lights in comparison with their outdated equivalents:



The day to day running and maintenance costs are slashed.
There is a positive environmental impact as opposed to a negative one.
The lack of wiring to be installed minimizes the disruption caused to, for example, road users during installation.
Power outages have no impact whatsoever on street lighting in the area.
Solar street lights can be easily erected in almost all locations.

Solar street lighting can be used not only on streets, boulevards and highways but can also provide cost-effective, environmentally friendly lighting for both military and civilian security installations; park areas or parking spaces; airports, docks and similar areas or, indeed, for whole communities.
Neither are solar street lights the only outlet for solar technology on the roads. Increasingly, traffic management systems such as traffic lights, road markers, and traffic signs are employing solar technology because of their minimal running costs and low maintenance. Similarly, airports are becoming more aware of the benefits of solar lighting, even on runways.
For environmentally and cost conscious solutions, solar powered lighting is the ideal method to illuminate the way ahead.
Photo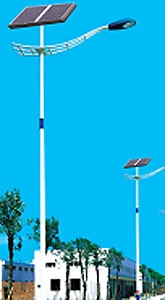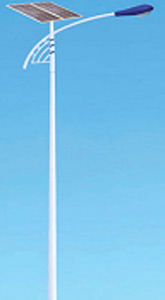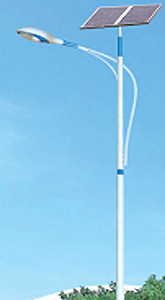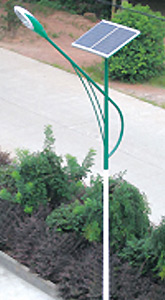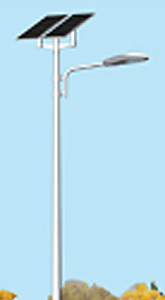 Item No
SL-LPS26
SL-LPS36
SL-LPS55
SL-LPS66
SL-LPS90
Pole
6M High quality steel Hot Dip Galvanized Plastic Spray
6M High quality steel Hot Dip Galvanized Plastic Spray
8M High quality steel Hot Dip Galvanized Plastic Spray
8M High quality steel Hot Dip Galvanized Plastic Spray
10M High quality steel Hot Dip Galvanized Plastic Spray
Solar Panel
60W Solar cells The conversion rate is no less than 15% Panel support angle 45°
90W Solar cells The conversion rate is no less than 15% Panel support angle 45°
140W Solar cells The conversion rate is no less than 15% Panel support angle 45°
160W Solar cells The conversion rate is no less than 15% Panel support angle 45°
220W Solar cells The conversion rate is no less than 15% Panel support angle 45°
Lights
SOX 26W 3500Lm
SOX 36W 4600Lm
SOX 55W 8100Lm
SOX 66W 10700Lm
SOX 90W 13500Lm
Batteries
12V55AH*2PCS No need maintenance Lead-acid batteries
12V70AH*2PCS No need maintenance Lead-acid batteries
12V100AH*2PCS No need maintenance Lead-acid batteries
12V120AH*2PCS No need maintenance Lead-acid batteries
12V200AH*2PCS No need maintenance Lead-acid batteries
Controller
Intelligent digital Light & Time sensor
Intelligent digital Light & Time sensor
Intelligent digital Light & Time sensor
Intelligent digital Light & Time sensor
Intelligent digital Light & Time sensor
Working Time
8-10 hours/day 3-5 rainy or cloudy days
8-10 hours/day 3-5 rainy or cloudy days
8-10 hours/day 3-5 rainy or cloudy days
8-10 hours/day 3-5 rainy or cloudy days
8-10 hours/day 3-5 rainy or cloudy days
Photo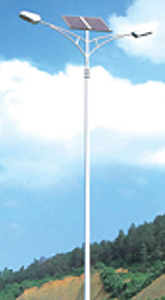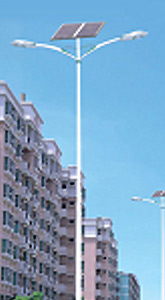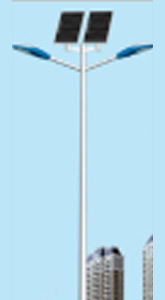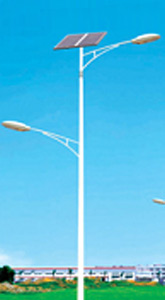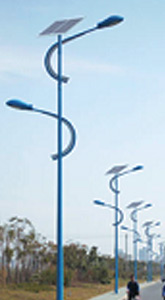 Item No
SL-2LPS18
SL-2LPS26
SL-2LPS36
SL-2LPS36+55
SL-2LPS55+66
Pole
6M High quality steel Hot Dip Galvanized Plastic Spray
6M High quality steel Hot Dip Galvanized Plastic Spray
8M High quality steel Hot Dip Galvanized Plastic Spray
8M High quality steel Hot Dip Galvanized Plastic Spray
10M High quality steel Hot Dip Galvanized Plastic Spray
Solar Panel
90W Solar cells The conversion rate is no less than 15% Panel support angle 45°
130W Solar cells The conversion rate is no less than 15% Panel support angle 45°
180W Solar cells The conversion rate is no less than 15% Panel support angle 45°
220W Solar cells The conversion rate is no less than 15% Panel support angle 45°
280W Solar cells The conversion rate is no less than 15% Panel support angle 45°
Lights
SOX 18W*2 3600Lm
SOX 26W*2 7000Lm
SOX 36W*2 9200Lm
SOX 36+55W 12700Lm
SOX 55+66W 18800Lm
Batteries
12V70AH*2PCS Maintenance Free
Lead-acid batteries
12V100AH*2PCS Maintenance Free
Lead-acid batteries
12V150AH*2PCS Maintenance Free
Lead-acid batteries
12V200AH*2PCS Maintenance Free
Lead-acid batteries
12V120AH*4PCS Maintenance Free
Lead-acid batteries
Controller
Intelligent digital Light & Time sensor
Intelligent digital Light & Time sensor
Intelligent digital Light & Time sensor
Intelligent digital Light & Time sensor
Intelligent digital Light & Time sensor
Working Time
8-10 hours/day 3-5 rainy or cloudy days
8-10 hours/day 3-5 rainy or cloudy days
8-10 hours/day 3-5 rainy or cloudy days
8-10 hours/day 3-5 rainy or cloudy days
8-10 hours/day 3-5 rainy or cloudy days